Taxes & Payment Information
Please be aware that online payments have varying settlement times. Tax payments are considered paid in full when funds are deposited and cleared into the Chester Township Tax Account. A receipt of payment date through the vendor may not match the receipt date with Chester Township. Thank you.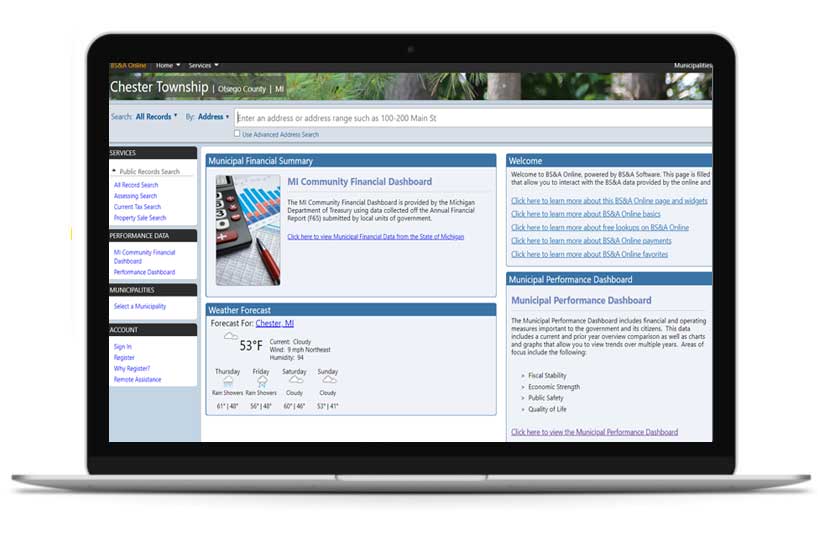 Summer tax bills are mailed on July 1 and due by September 14. Please contact the Township Office if you have a change of address to ensure correct mailing of your tax bills.
Winter taxes, mailed December 1, are due by February 14th without interest or penalty. Books close on February 28th. All real property delinquent summer and winter payments then forward to the Otsego County Treasurer and must be paid there. For more information, please contact the Township Treasurer: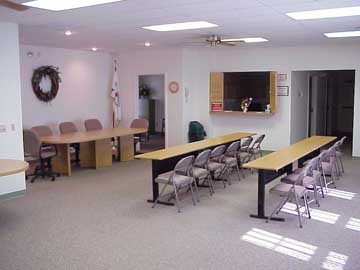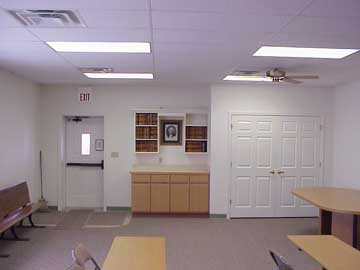 The Chester Township Hall is available for rentals.
The Chester Township Hall holds 75 people. No alcohol is allowed on the premises. Rental rates can be found on the Hall Rental Agreement Form.
Please contact the Township Supervisor for more information:
You can register to vote at the Secretary of State's branch office, the County Clerk's Office, or the City Clerk's Office.
Chester Township is part of the State-Wide Qualified Voter's File (QVF). This voter's file works in conjunction with driver's license records. Effective April 1, 2000, Michigan law requires that the same address must be used for driver license and voter registration purposes. Therefore, if the residence address you provide for driver license/personal I.D. card purposes differs from your voter registration address as it appears on the Qualified Voter File, the Secretary of State will automatically change your voter registration to match the residence address on your driver license/personal I.D. card, after which your voter registration at your former address will no longer be valid for voting purposes. A new voter registration card, containing the information of your polling place, will be provided to you by the clerk of the jurisdiction where your residence address is located.
Some situations, such as a voter who has moved or changed his/her name, could cause the voter's name to be inadvertently removed from the QVF precinct list. The Clerk's Office maintains all voters in a master card file and is checked when missing voters are brought to our attention. If you have not voted within the last few years, please call the Clerk's Office to check that you are registered and entered correctly into our system.
Please contact the Township Clerk:
When and where do I register to vote?
You can register to vote at anytime at the City Clerk's Office, County Clerk's Office, any Secretary of State branch office, and designated state agency offices.
If you are not sure if you are registered to vote, please call the City of Gaylord Clerk's Office at 989.732.4060.
I'm not sure if I am registered, how do I find out?
You can call the City Clerk's Office and they will be happy to check for you. Keep in mind that there is a registration cut-off date of 30 days prior to an election, so make sure you give yourself sufficient time to register in case you aren't. To be eligible to vote in an election, you must have registered at least 30 days prior to that election.
I've moved – where do I vote?
If you have moved within the city and have not changed your registered address, you vote at your old precinct and fill out a change of address form. You will receive a new voter identification card with your new precinct location.
When you move out of the city, you must register in your new city or township. If the move was within 60 days of the election, you are entitled to vote at your old precinct; but you must sign a cancellation form at that time. 
Also helpful is the Secretary of State's new voter information website:  www.michigan.gov/sos
I've misplaced my Voter Identification Card, am I able to get a replacement even though I have not moved?
Yes, contact the City Clerk's Office and ask them to verify that you are currently registered and if you are, ask them to mail you a new Voter Identification Card.
The Township Treasurer sells licenses during tax season, from December 1 – February 28, with proof of a rabies vaccination. Licenses can also be purchased year round at the Otsego County Animal Shelter.
Your township government ensures that the community's health and safety needs are adequately addressed. In cooperation with other governmental organizations, police, fire, and emergency medical services are provided.
Chester Township has contracted with both the Otsego County Fire Board and Charlton Township in providing fire protection. Ambulance services for citizens of Chester Township are provided by the Otsego County EMS and Charlton Township.
While townships do not have direct responsibility for roads, they do cooperate with county agencies that have direct responsibility for these services. Each year the township tries to improve roads in the township. 
History of Chester Township
Chester Township was established October 10, 1888. The original hall was located at the S.E. corner of M-32 and Oley Lake Road.
When that building was no longer able to be used due to deterioration, it was closed and the King School, located directly across the street served as township hall and school.
Due to maintenance costs and deterioration of the old King School, the present building was acquired from Big Lake School in January of 1967.
The township still owns the property where the old King School was located, however the building was demolished for safety reasons.
The current hall was renovated and an addition was built in 1997. A Capitol Improvement Fund was established and over a period of years money was put into this fund for the hall addition and renovation project.